The Affordable Care Act (ACA) was passed by Congress and signed into law by President Obama on March 23, 2010, and seeks to reform the United States' healthcare system by giving more Americans access to quality, affordable health insurance. Approximately 45 million Americans were without health insurance before the law was implemented, and roughly 20 million have gained insurance coverage since the law was enacted.
The ACA brought about several changes to consumers. Notable provisions include that individuals cannot be turned down for coverage because of an illness or pre-existing condition, dependents can remain insured under their parents' plan until age 26, and employers with more than 50 employees must offer health insurance to full-time workers or face a penalty. The ACA includes an "individual mandate" whereby everyone is required to have coverage, or face a financial penalty. Substantial subsidies are available for those who have difficulty affording coverage.
The Affordable Care Act (ACA) provides opportunities to further increase and strengthen children's health coverage.  The ACA requires states to better align coverage for children by transitioning coverage for all children up to 133% of the federal poverty level (FPL) to Medicaid.  The ACA also further streamlines enrollment processes and increases outreach efforts for adults, which could increase enrollment of children. New coverage options will also provide access to uninsured children through the marketplaces.
Covered California
Upon the law's passage, states were given the choice to establish their own health insurance exchange, a virtual marketplace for comparing and selecting health plans, or utilize the federal marketplace. California set up its own exchange, called Covered California. Covered California offers choices of private health insurance plans and Medi-Cal plans, and there are a variety of options when it comes to premiums – some plans have a higher monthly premium with less out of pocket costs when care is needed, and vice versa.
While 1.5 million Californians have gained covererage through Covered California, the exchange has drawn criticism recently with a projected avergage rate hike of 13.2% for 2017. A major carrier has also dropped out of the Covered California market, citing signicant loss in revenue.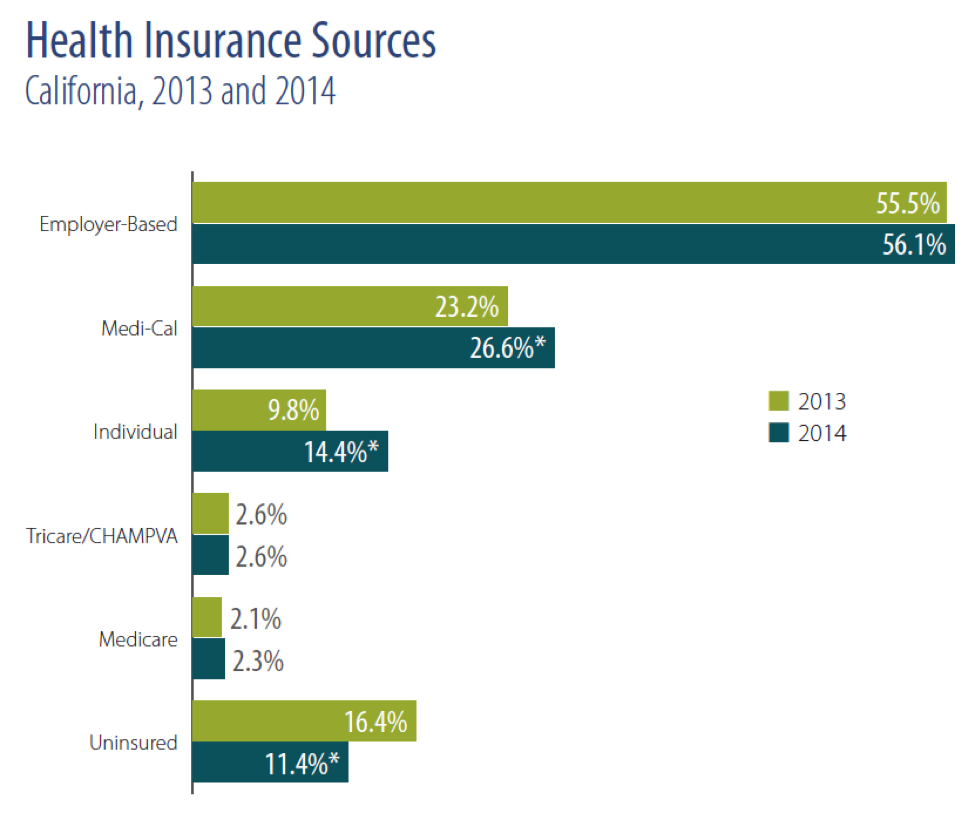 Source: CHCF: California Health Care Almanac, California's Uninsured, Coverage Expands, but Millions Left Behind
Federal Health Reform and CHIP
The Children's Health Insurance Program (CHIP, formerly the State Children's Health Insurance Program (SCHIP)) was created by the Balanced Budget Act of 1997, enacted Title XXI of the Social Security Act. It has allocated about $20 billion over 10 years to help states insure low-income children who are ineligible for Medicaid but cannot afford private insurance.
President Obama signed the Patient Protection and Affordable Care Act, H.R. 3590, on March 23 and the Reconciliation Act of 2010, H.R. 4872, on March 30, 2010.  Among many provisions, the laws extended the authorization of the federal CHIP program for an additional two years, through Sept. 30, 2015. The laws require states, upon enactment, to maintain current income eligibility levels for CHIP through Sept. 30, 2019. States are prohibited from implementing eligibility standards, methodologies or procedures that are more restrictive than those in place as of March 23, 2010, with the exception of waiting lists for enrolling children in CHIP.
On April 16, 2015, President Obama signed into law H.R. 2, the Medicare Access and CHIP Reauthorization Act of 2015.  The legislation extends the Children's Health Insurance Program for another two years, as well as express lane eligibility, outreach and enrollment, and other programs, such as the Childhood Obesity Demonstration Project.
Additional Resources
National Academy for State Health Policy: The Future of Federal CHIP Financing
California Health Care Foundation: ACA 411: Tracking Health Reform in California
California Health Care Foundation: California Health Care Almanac, California's Uninsured, Coverage Expands, but Millions Left Behind
[1] http://www.hhs.gov/about/news/2016/03/03/20-million-people-have-gained-health-insurance-coverage-because-affordable-care-act-new-estimates